New From Author M.R Joseph
Always In
Book 2 in the Shore series
My name is Raphael Cruz. I was once a man made up of only flesh and bone. Never feeling, just existing. I
indulged in the pleasures that others gave to me, and those I gave to them.
That's all it was—pleasure. Physical pleasure. No emotions, no attachments.
I didn't need all those feelings, didn't want them. There was no longing for love, no longing to let anyone in. Until I found her. And I gave in. Harlow Hannum showed me what love was all about. I savored it and held it close, not even knowing I really wanted it in my life. She made me feel loved. She made me accept love. She taught me how to love in return. My heart was open to it all. My heart was hers. It belonged to her.
And then lies, deceit and betrayal forced me to lose the one thing that made me more than a man who just existed. I should have told her I loved her when I had the chance. I should have told her I gave in to all the powers that love possess.
Will I ever have the chance to tell her? Will my past mistakes never give me that chance?
I need her to know. I want her to know...
M.R. Joseph is a best selling author who chose to use Silver Lining Events for her Cover Reveal Party and for her Release Day Party scheduled for June 27th beginning at 9 p.m. EST. The event on Facebook is sure to be fun and very exciting.
Silver Lining Events Coordinator, http://www.teb19762.wix.com/silverliningevents
I'm a book nerd turned writer who loves the 'Happily Ever After' mixed with a bit of suspense, drama, and the occasional cliffhanger! My Kindle is glued to my hands most of the time, but I still love the look and feel of a paperback book. My love of books brought me on my writing journey. I began writing my first book in July 2012 and since that time I have created 2 series. The first series 'The Reunion Series' debuted in November 2012 and two books followed, those being stand alone novels. My new series 'The Shore Series' released in March 2014. The first book is entitled 'Giving In' and four books will follow in that series. When i'm not writing, you'll never see me in front of the T.V. Curled up with a good book is where you'll find me. I am huge Indie Author fan and supporter.
Connecting with Joseph is simple! Here's how:
Other books by M.R. Joseph
What happens when a man falls in love with his best friend? How does he convince her to love him in return if she has no idea that his feelings run so deep? Carter London has everything a man should want, a blooming career as a sexy rock star, a loving family, women who adore his model-perfect looks, and great friends. What he doesn't have is the love of the girl who stole his heart nine years ago. Casey Colbert is the converse-wearing epitome of the girl next door. She's smart, beautiful, and best friends with Carter London. She knows all there is to know about her sex-on-a-stick best friend, except the well-guarded secret of her holding the key to his heart. Carter returns to his hometown of Indian Shores, Florida for his ten year college reunion, to profess his love to Casey. Unfortunately, he discovers her heart is already spoken for by none other than Jordan Reid, who is gorgeous, sweet and insanely rich. Carter vows to use his time back home to win over the one woman who can set his world on edge with just a glimpse of her smile. Will Casey see the love that's right in front of her eyes? Or will the mistakes of his past and his obsession with loving her overwhelm the girl who already has it all?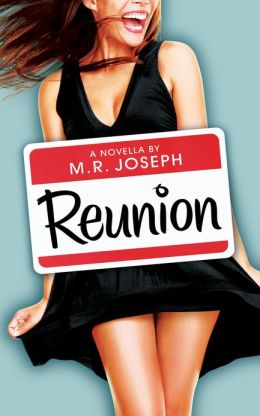 Savannah Garrett had always had a good head on her shoulders. She was well-educated and had a fantastic teaching job at a prestigious school in Boston. Her life was just where she wanted it to be until she returned to her home town in the suburbs of Philadelphia for her 10 year class reunion.
Seeing old friends and reminiscing about her high school days was expected. Seeing her first love after five years was not. Can she handle seeing Sam Reynolds after all this time and could she get through the hurt and pain their past relationship had caused?
Can there be a second chance for Savannah and Sam or would a deep, dark secret destroy their chances of happiness?
Macs Book Blog Review
Who doesn't love the idea of being able to go to your 10 year high school reunion and show your ex exactly what he or she missed out on?
Savannah Garrett, Home for her 10 year Reunion and a job interview, has made absolutely sure she wont see her high school sweetheart turned ex, while she's home. The problem is that they all ran in the same circles and
after A girls night out at Roy's ( the local hangout) turns sour when she see's HIM there, Sam Reynolds. An of course he looks amazing.... Well in the words of Georgia, Sav's Younger crazier sister "shits about to hit the fan", and boy does it ever!
I loved this book for so many reasons, MR Joseph has a way or grabbing a hold of you and taking you on a journey back in time. The playlists, talk about awesome, I know we have all heard a song and it made us think of a certain someone or something. This book made me remember what it felt like in high school surrounded by your crew who would back you up on anything in a heart beat, who knew you better than you knew yourself sometimes because of this It was easy to relate to.
Now if only the guys we all knew in high school knew how to talk to a woman the way Sam Reynolds does we'd all be big piles of mush :) with lines like, "

You look into the person's eyes that you love the most in this world and you thank your lucky stars that those eyes are looking back at you." Who wouldn't be?
I can't give you much more without ruining the story for you, but I can tell you that MR Joseph doesn't leave you hanging in the end!
The course of true love never did run smooth~ Shakespeare
Leighton Parks~
I only wrote the love letters to my high school crush for fear if he truly knew my identity, I would be rejected. I wasn't the most confident girl in my school, and he was well... he was Luca Ferro. How could he ever be interested in a shy, book worm like me? That's why I wrote them. To tell him all the feelings I had for him. When I stopped writing the letters, I never imagined that 10 years later they'd come back to change my life, forever.
Luca Ferro~
I always believed in soul mates, finding that one true love. And I found her, my letter girl, but never knew who she was. She was a mystery. Her letters, her words, meant more to me than anything. I searched for her, thought of her day and night, but never found her. I gave up on the idea of finding the missing piece to my puzzle—that is until she walked right into my life and I didn't know what hit me.
A chance encounter brings Luca and Leighton together ten years later at their high school reunion. Will past secrets threaten to destroy their futures, or will love be written in the stars for them just as it was in Leighton's letters?
Macs Book Blog Review
When you find the "one who holds your heart" Are you willing to fight for them?
"At least I can take with me the knowledge that he read them. He read my words. The words that are meant for him and only him. Time to grow a set and write my letters to Luca."
Leighton Parks was a sweet, innocent, shy girl in high school. After a brief encounter one day with Luca Ferro, Leighton begins to notice him more and more.
Too shy to tell him how she feels, Leighton begins writing him anonymous letters to express her growing feelings for him.

" My dearest Luca, I know you want to find me; I can see it in your eyes every day I see it.But alas, I cannot reveal my identity for fear that I would not be what you wanted. I know in the letter you wrote back to me, you said you lost sleep over finding me. I cannot have that, my love your well being means more to me than anything. Let's just have this. I like it this way. I get to tell you all the things I love about you, and you accept me for who I am without even knowing me. I know that you are a good person. You are strong, smart, handsome, and you love your family. Maybe someday our paths will cross, you will look into my eyes and you will know it's me. I wouldn't have to say anything, we would just know. That time is not now for us my Luca but remember this, "In true love the smallest distance is too great, and the greatest distance can be bridged." We will find our path some day, Luca have faith. Forever yours, The one whose heart you hold"
Luca Ferro is not your typical Jock. Drafted in high school to play baseball, he decides instead to go to college and play for the University of Miami. After blowing out his elbow, not once but twice Luca turned to the letters from his "letter girl" to get him through the rough times.
The book starts out with Leighton in bed with her steady man Michael and Luca running his Father's restaurant and coaching his old high school baseball team. Leighton, the secret author of 3 contemporary romance novels get's her invitation to her high school reunion and it's being held at none other than Luca Ferro's place! I can't get into too much detail without spoiling it for you but I can tell you that fate steps in and takes hold of the reigns.
After pining for his "letter girl" for years Luca is about to get the surprise of a lifetime. Will the betrayal of his "letter girl" be too much for him?
I love each and every one of the characters in this book... from the sleazy and slimy Michael and Val, to Luca's sweet lil Old Italian father. The depth of emotion in this book is something I've personally never experienced while reading a book before. I went from hopeful to angry, heartbroken, and sad, and finally to happy. I really did laugh out loud, cry and at points even yell at the book while reading it.
Luca is the type of man we want our sons to be like and our daughters to marry. And Leighton, well, we find out that even as a woman Leighton may still have a bit of growing up to do emotionally.
Letters to Luca has it all, secrets, lies, laughs, but most of all it has Love. Not story book romance kind of love, but real, raw love. The love of everyday real life that can consume you at times. The kind of love that you feel so strongly about that you do not know where it ends and you begin.
This book showed me the importance of communication in a relationship; it reminded me that relationships take hard work, compromise and most of all understanding and forgiveness.
M.R. Joseph weaves a story of soul mates fighting and sometimes failing to love one another in the way the other one needs.
She makes you question, is love, even true love, always enough?
Raphael Cruz doesn't do it. He just doesn't. Cruz doesn't fall in love.
He's a "get in and get out" kind of guy. Ladies love him and fall all over him for his swoon worthy good looks and overwhelming sex appeal. He knows how to talk to them and tells them exactly what they want to hear. When he's done making them scream his name, he shows them straight to the door. The meaning of the word love doesn't exist in his world. But that could all change with a wink of a girl's eye... And one hot-as-hell romp in a bar bathroom.
Harlow Hannum is your typical girl-next-door. She has the brains, the beauty, and the money. What she doesn't have is the luxury of being someone's first choice in the game of love. She always comes in a distant second place, leaving her guarded with her feelings. Lies, betrayal, and secrets of her past follow her wherever she goes, no matter how hard she tries to hide them. That is until she's reunited with the one guy who can ignite the spark in her heart that's been extinguished for so long.
With sunny days, heated nights, and love lingering in the air in the beach town of Sandy Cove anything can happen. Especially when fate steps in for Harlow and Cruz. Will their blossoming friendship turn into unexpected love or will the collision of their opposing worlds be the end of what could have been?
Macs Book Blog Review
Wow! I am currently nursing the worst book hangover I can ever remember having. I truly haven't read another book since I read the end of Giving In by M.R. Joseph.

Now, I was given an ARC of the book, and when asked what I thought of it, I told the author that I really do think this is the best of her books, which is saying something because I loved her other series!

Harlow, a jilted lover, turns to a cute stranger at the bar for comfort. Cruz watched the hottie at the bar slam back another shot of tequila and figured he could turn her frown upside down. A year later, when the two of them run into each other sparks ignite.

Harlow and Cruz are explosive together whether they are fighting or well the other F word, lol. The supporting characters are not just in there for fluff like some other books, they each have a part to play and you can really feel their connection to each Harlow and Cruz, Which makes the story that much more interesting and enjoyable to read.

I thought the way that the author wrote Cruz and Harlow; it was so easy to empathize with them. These aren't your typical picture perfect couple who come from great families, or have tons of money. Harlow comes from a good family that is old money, and Cruz comes from a family with a checkered past, but both are not without their scars, they're damaged just like the rest of us. I think that is part of the reason I enjoyed reading Giving in so much. I mean yes, there was great sex scenes, drama, romance, and humor, but I kept reading because I cared about what was happening to these people.

I cried for them, I was angry on their behalf, and I cheered them on. This is not a book that you can just walk away from; once you finish it, you'll be anxiously awaiting the next in the series to see what comes next.

My biggest complaint about this book would have to be that it does end in a cliffhanger, which I am not a fan of at all in any book. However, that probably has more to do with my lack of patience.